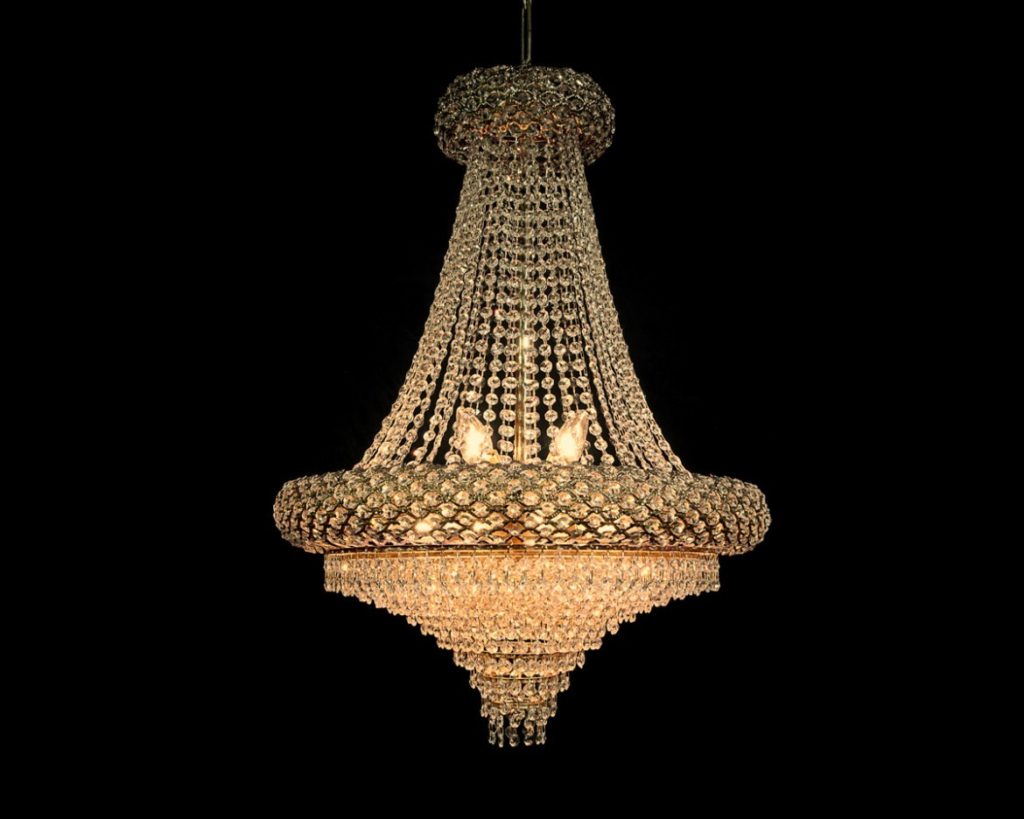 An Empire chandelier, actually called Empire, is a style which originated in Versailles. For the construction of the palest in Versailles Louis XIV and XV, former Kings of France, collected the best architects and artisans from Europe.  They created the unique interior of this royal palace. The Versailles style is characterized by influences of Italy, Bohemia and France. It used to be a chandelier with a gilt-bronze frame, decorated with gorgeous crystal. These chandeliers created a special atmosphere at galas and parties. Under the influence of various kings who used Versailles as residence, this style was further developed.  Later versions were decorated even more beautifully. It resulted into a balance between various sizes of crystal.
Empire, or Empire chandelier, is originally a pure French style which originated in France. After the French Revolution this style flourished. Initially, Empire was an interior style for the better citizens. Napoleon had his castles and palaces decorated in this 'modern' style.  It resulted into the final Empire chandelier. A model which is still popular nowadays. Empire chandeliers decorate a wide range of buildings, worldwide. In Europe an Empire chandelier is frequently used as decoration or lighting of an event or wedding. The Empire chandelier is a crystal silhouette, that creates a sense of luxury, romance and class. For this reason we don't only rent these wonderful chandeliers for occasions like a gala, a dinner, a corporate event, but for lighting and decoration of a fashion show, wedding or TV-show as well.
Empire chandelier Type-1A Gold can easily be assembled. This chandelier allows easy transport and is fitted with chain, safety and colored harp closure. For this chandelier leaded crystal is used. Leaded crystal creates a wonderful sparkling chandelier, thanks to grinding technique and prisms. Empire chandelier Type-1A Gold is suitable for modern and classic environments.
Specifications
Color: Gold
Height: 0.90mtr
Dimention: 0.60mtr
Weight: 10kg
Light points: 15 x 25w
Transport: worldwide delivery
Ask for an enquiry
We prefer to work with professionals
Be as specific as possible if you want to receive a quote. Date of the event, place / postal code of the event venue and your company details.
We will treat all data confidentially.