5 inspiring ideas to integrate chandeliers in a wedding
Lighting makes sure that the wedding gets a nice atmosphere. A wedding, traditional or modern, needs chandeliers. Chandeliers make sure there is romance and atmosphere. Below you can read 5 inspiring examples how to integrate chandeliers in a wedding.
A wedding in a tent:
A wedding in a tent is one of the most common locations. A tent is usually very bare and white. Place some crystal chandeliers in the truss. This will make a big difference. It is also possible to place chandeliers on the trusses on the left and right sides. Standing chandeliers can be placed in the tent as well. If you are renting another type of tent, you can hang some small chandeliers on a wire.

A traditional wedding
Religious belief or not, chandeliers fit in every tradition. Be it an Indian wedding, an Islamic wedding or a Hindustan wedding. Decorations of a Nigerian wedding also cannot do without chandeliers.

A wedding in a hall
Halls are usually bare and have standard (party) lighting. By spreading chandeliers over the location you will create a totally different atmosphere. The hall will get a totally different look.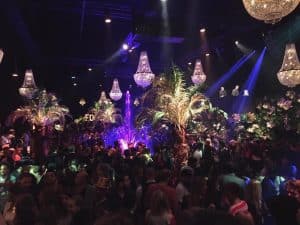 A beach wedding
During a beach wedding the chandeliers will take care of the little extra touch. For example a chandelier over the bridal couple during the blessing of the marriage. By hanging chandeliers over the (dining) tables you will be able to enjoy a wonderful effect.

An outdoors wedding
For an outdoors wedding there are many different ways to create atmosphere. Use chandelier trees and spread them througout the place. It will create mood lighting as night falls.